StickMen War

Windows Desktop Screen Saver

Tiny men invade and destroy your PC desktop!



Free Trial Download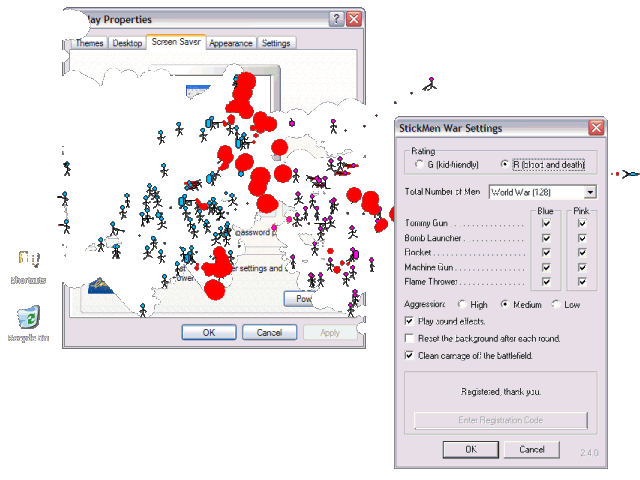 Free Trial Download



If you like it, register your version for only 99¢
That's a lot of mayhem for less than a dollar!


Full Version has Sound, Machine Guns and More!
This download contains no spyware or adware or any other lame attempt to make money at the expense of the user's PC. We have been making software for over 25 years and have had shareware available on the internet for over 20 years! We just thought this would be a cool and fun screen saver. All we ask is that if you like it, pay the tiny shareware fee of only 99¢ to register StickMen War Screen Saver. The registered version enables the full functionality and allows those little men to invade your screen forever! Use the secure PayPal payment link above. Thank you!
Download.com Review:
"Its primitive looks aside, this humorous screensaver makes a nice addition to your desktop. As you might infer from its name, this app consists of two armies of stick men waging war on your screen, so the graphics are quite crude by their very nature. Unlike most screensavers, this one does not switch your computer into an alternate view. Instead, the stick men march right across your screen, blasting away your desktop icons with rockets, flamethrowers, and bullets..."
SharewareJunkies.com Review:
"This strange and cute little screensaver drops a bunch of stickmen on your desktop to fight. The 2 armies run out from each side of the desktop and have at it and nothing is safe, not the icons, open windows, not even the wallpaper. Everything gets torn up..."
Enthusiastic User Review:
"This is sweet! Its just so darn fun to watch! And you can put windows and icons on the desktop to act as obstacles (they cant walk through them, they have to blast through) Includes a "Kid-Safe" version for your kids PC's. I like it."
---
Other websites from the maker of StickMenWar:


RxGym
MissleDefender
DailyPuzzlePic
PaintedBus.com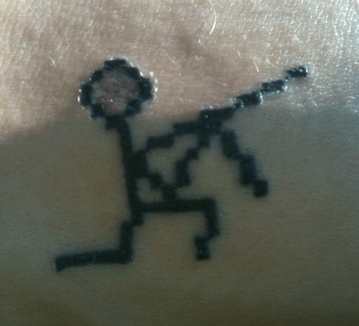 My SMW tattoo!